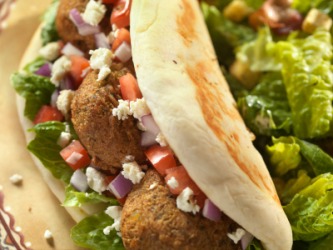 A plate of falafel and pita.
---
falafel definition by Webster's New World
noun
pl.
falafel
a small croquette or patty of ground chickpeas and other vegetables, seasoned with spices and deep-fried in oil
a sandwich made by stuffing this into the pocket of a pita
Origin: Arabic falāfil
Webster's New World College Dictionary Copyright © 2010 by Wiley Publishing, Inc., Cleveland, Ohio. Used by arrangement with John Wiley & Sons, Inc.
---
falafel definition by American Heritage Dictionary
or fe·la·fel
noun
Ground spiced chickpeas shaped into balls and fried.
A sandwich filled with such a mixture.
Origin: Arabic falāfil, pl. of filfil, pepper, probably from Sanskrit pippalī; see pepper.
falafel
Variant of falafel
noun
pl.
falafel
a small croquette or patty of ground chickpeas and other vegetables, seasoned with spices and deep-fried in oil
a sandwich made by stuffing this into the pocket of a pita
Origin: Arabic falāfil