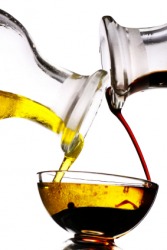 This mixture of oil and vinegar is an emulsion.
noun
The definition of an emulsion is a suspension where an unmixable liquid is held in another liquid.

An example of an emulsion is oil in vinegar.
---
emulsion
a stable colloidal suspension, as milk, consisting of an immiscible liquid dispersed and held in another liquid by substances called emulsifiers; specif.,
Pharmacy

such a suspension used as a vehicle for medication

Photog.

a suspension of a salt of silver, platinum, etc. in gelatin or collodion, used to coat plates, film, and paper
Origin of emulsion
Modern Latin
emulsio
from Classical Latin
emulsus
, past participle of
emulgere
, to milk or drain out from
e-
, out +
mulgere
, to milk
---
emulsion
noun
A suspension of small globules of one liquid in a second liquid with which the first will not mix: an emulsion of oil in vinegar.
A photosensitive coating, usually of silver halide grains in a thin gelatin layer, on photographic film, paper, or glass.
Origin of emulsion
New Latin
ēmulsiō
ēmulsiōn-
from
Latin
ēmulsus
past participle of
ēmulgēre
to milk out
ē-, ex-
ex-
mulgēre
to milk
; see
melg-
in Indo-European roots.
Related Forms:
---