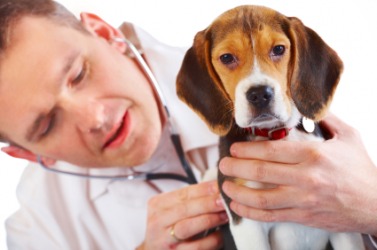 A puppy being checked by a Doctor of Veterinary Medicine.
abbreviation
DVM is defined as an abbreviation for the Doctor of Veterinary Medicine degree.

Facts About the DVM

The course of study takes four years of college, four years of veterinary school with the final year involving a great deal of clinical experience. The student may also have postgraduate work if they select an exotic animal specialty.
The veterinarian curriculum covers anatomy, and a number of fields that will be useful in diagnosis and treatment of patients in the future including: pathology, microbiology, histology, physiology and pharmacology.
As of 2010, there are only 28 licensed veterinary schools in the US. Due to the small number of schools, admission to veterinary school is very competitive.

An example of a DVM is the typical degree awarded to a vet.
---
DVM
or D.V.M.
Doctor of Veterinary Medicine
---
DVM
abbreviation
Doctor of Veterinary Medicine
---
dvm

Initialism
Doctor of Veterinary Medicine
Digital Volt Meter
---