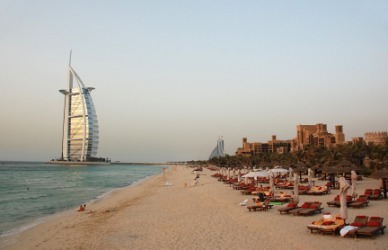 A beach in Dubai.
---
Dubai
one of the emirates that constitute the United Arab Emirates: 1,510 sq mi (3,911 sq km); pop. 419,000

its chief city, a seaport on the Persian Gulf: pop. 266,000
---
Dubai
also Du·bayy
A city and sheikhdom of eastern United Arab Emirates on the Persian Gulf. Oil was discovered here in the 1960s, and in subsequent decades Dubai has grown into an international business hub.
---
Dubai
See also:
Dubaï
---