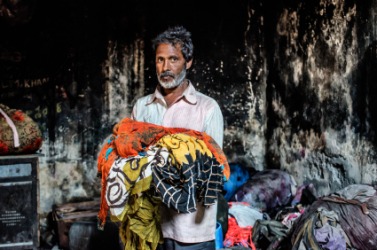 A dhobi with an arm full of laundry.
noun
The definition of a dhobi is a person who washes clothes in India.

An example of dhobi is the person to whom you'd bring your dirty clothes to be washed while traveling in India.
---
dhobi
in India, a person who does laundry
Origin of dhobi
Hindi from
dhob
, washing; akin to Sanskrit
dh?vati
, (he) cleans,
dhavala
, shining white from Indo-European base an unverified form
dheu-
, gleaming
---
dhobi
noun
pl.
dho·bis
A traditional washer of clothes and linens in South Asia.
Origin of dhobi
Hindi
dhobī
washerman
from
dhob
a wash, washing
from
Middle Indic
dhovvaï
is washed
from
earlier
dhauvati
he washes
alteration
(
influenced by
Sanskrit
dhauta-
washed
)
of
Sanskrit
dhāvati
he washes
---
dhobi

Origin
From Hindi धोबी (dhōbī, "washerman")
---