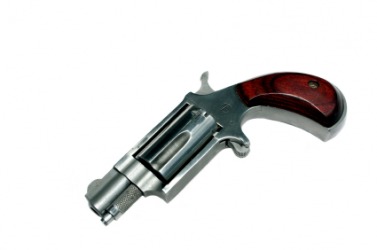 An exmaple of a derringer pistol.
---
derringer
☆
noun
a small, short-barreled pistol
Origin of derringer
after Henry
Deringer
1786-1868, United States gunsmith
---
derringer
noun
A short-barreled pistol that has a large bore and is small enough to be carried in a pocket.
Origin of derringer
After Henry
Deringer
,
(1786–1868), American gunsmith
.
---
derringer
Usage notes
The spelling and capitalisation of the word has varied since the pistols were first designed, with Deringer being the original usage. In the late 1850s, misspellings added a double R to the name, Derringer, which remained capitalised. Lower case versions of both spellings were in use soon after. The fifth edition Webster's Collegiate Dictionary in 1937 lists the now common spelling of derringer with lower case D and a single R.
Origin
Named after gunsmith Henry Deringer Junior.
---