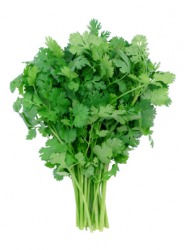 This bunch of cilantro, or coriander, is also known as Chinese parsley.
---
coriander definition by Webster's New World
noun
a European annual herb (Coriandrum sativum) of the umbel family
its strong-smelling, seedlike fruit, used in flavoring food and liqueurs, and, formerly, in medicines
the leaf of this plant, used as an herb in cooking; cilantro
Origin: Middle English and amp; Old French coriandre ; from Classical Latin coriandrum ; from Classical Greek koriandron, koriannon
Webster's New World College Dictionary Copyright © 2010 by Wiley Publishing, Inc., Cleveland, Ohio. Used by arrangement with John Wiley & Sons, Inc.
---
coriander definition by American Heritage Dictionary
noun
a. An aromatic annual Eurasian herb (Coriandrum sativum) in the parsley family, having parsleylike leaves and umbels of tiny white to pinkish flowers. It is cultivated for its edible fruits, leafy shoots, and roots.

b. The fresh young leafy plantlets of this herb, used in salads and various dishes as a flavoring and garnish. Also called Chinese parsley, cilantro.

The seedlike fruit of this plant, used whole or ground as a flavoring for food and as a seasoning, as in curry powder.
Origin: Middle English coriandre, from Old French, from Latin coriandrum, from Greek koriandron.