cockpit

cock·pit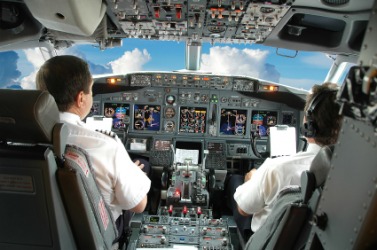 The cockpit of a commercial airplane.
noun
The definition of a cockpit is a place of rooster fighting, or a place where the captain and pilot sits in an airplane.

An example of a cockpit is a battleground on which many battles were fought between roosters.
An example of a cockpit is the space from which a plane is controlled.
---
cockpit
an enclosed circular area for cockfights
a place where there have been many battles
a sunken space in the deck of a boat, usually toward the stern and for use by the helmsman
the space in a small airplane for the pilot and, sometimes, passengers, or in a large airplane for the pilot and copilot or crew
the driver's seat in a racing car

Historical

the quarters of junior officers on a sailing warship, used for the treatment of the wounded during a battle

Obs.

the pit of a theater
---
cockpit
noun
a. The space in the fuselage of a small airplane containing seats for the pilot, copilot, and sometimes passengers.

b. The space set apart for the pilot and crew, as in a helicopter, large airliner, or transport aircraft.

The driver's compartment in a racing car.
A pit or enclosed area for cockfights.
A place where many battles have been fought.
Nautical

a. A compartment in an old warship below the water line, used as quarters for junior officers and as a station for the wounded during a battle.

b. An area in a small decked vessel toward the stern, lower than the rest of the deck, from which the vessel is steered.
---
cockpit

Noun
(plural cockpits)
The space for those in control of a nautical, aeronautical, or astronautical vessel.
An enclosure for cockfights.
---