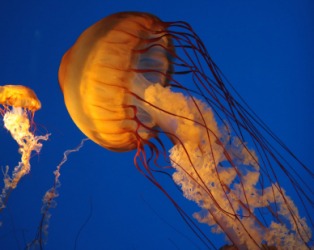 This jellyfish is an example of a cnidarian.
---
cnidarian
noun
any of a phylum (Cnidaria) of invertebrate animals, mainly marine, including jellyfishes, hydrozoans, and anthozoans, characterized by stinging cells and a saclike body cavity with a single opening for ingesting food and eliminating wastes; coelenterate
Origin of cnidarian
Modern Latin
Cnidaria
; from Classical Greek
knidē
, nettle + -aria: so called for the creatures' stinging cells
---
cnidarian
noun
Any of various invertebrate animals of the phylum Cnidaria, characterized by a radially symmetrical body with a saclike internal cavity and stinging nematocysts, and including the jellyfishes, hydras, sea anemones, and corals.
Origin of cnidarian
New Latin
Cnīdāria
,
phylum name
, from Greek
knīdē
,
sea nettle
.
Related Forms:
---
cnidarian
---