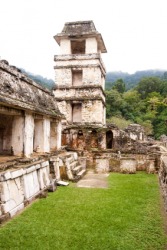 Ruins of an ancient Mayan city in the Mexican state of Chiapas.
---
Chiapas
state of SE Mexico, on the Guatemalan border & the Gulf of Tehuantepec: 28,528 sq mi (73,887 sq km); pop. 3,210,000; cap. Tuxtla Gutiérrez
---
Chiapas
A state of extreme southeast Mexico adjoining the Guatemalan border. Largely rural and underdeveloped, in the 1990s Chiapas became the site of a popular uprising against Mexico's federal government.
---
Chiapas
---