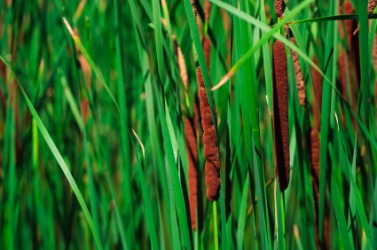 A group of cattails amidt tall grass.
---
cattail
noun
any of a genus (Typha) of the cattail family with reedlike leaves and long, brown, fuzzy, cylindrical flower spikes; esp., either of two species (T. latifolia and T. angustifolia) whose long, flat leaves are used in making baskets and matting
adjective
designating a family (Typhaceae, order Typhales) of monocotyledonous, tall marsh plants
---
cattail
noun
Any of various perennial herbs of the genus Typha, widespread in marshy places and having long straplike leaves and a dense cylindrical cluster of minute flowers and fruits. Also called reed mace.
cattail
narrow-leaf cattail
Typha angustifolia
---
cattail
---