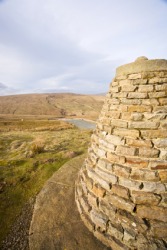 A cairn in the mountains of Yorkshire.
---
cairn
noun
a conical heap of stones built as a monument or landmark
Origin of cairn
Scottish ; from Gaelic
carn
, an elevation ; from Indo-European base an unverified form
ker-n-
, highest part of the body, horn, hence tip, peak from source Classical Latin
cornu
, horn, extremity, summit
---
cairn
noun
A mound of stones erected as a memorial or marker.
Origin of cairn
Middle English
carne
, from Scottish Gaelic
carn
, from Old Irish.
Related Forms:
cairn
---
cairn
Noun
(plural cairns)
A rounded or conical heap of stones erected by early inhabitants of the British Isles, apparently as a sepulchral monument.

Now here let us place the gray stone of her cairn. -Campbell.

A pile of stones heaped up as a landmark, to guide travelers on land or at sea, or to arrest attention, as in surveying, or in leaving traces of an exploring party, etc.
A cairn terrier.
Origin
From Scots cairn, from Scottish Gaelic carn ("heap of stones"); compare Old Irish carn, Welsh carn, probably from a Proto-Celtic word meaning 'horn'.
---