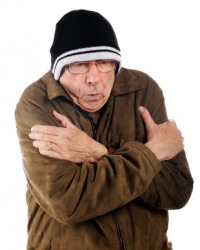 This man is saying "brrr"!
interjection
The definition of brrr is a way to say someone is cold.

An example of brrr is what a person would say standing in the snow without a jacket on.
---
brrr
or brr
used to signify that one feels cold
Origin of brrr
echoic: suggestive of shivering
---
brrr

Interjection
Alternative spelling of brr.
---