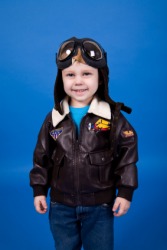 A child wearing a small version of a bomber jacket.
---
bomber jacket
a loose, zippered leather jacket with fitted waist and cuffs, worn by American bomber pilots in WWII
a casual jacket resembling this
---
bomber jacket
noun
A short sturdy jacket traditionally made of leather and having a fitted or elastic waist, a zippered front, and often a fleece or pile collar. Also called flight jacket.
Origin of bomber jacket
Designed after jackets worn by flight crew members of the US Air Force
.
---
bomber jacket
Noun
(plural bomber jackets)
Origin
Similar to jackets worn by bomber crew in WWII.
---