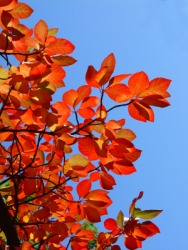 The bright fall leaves of the black gum.
---
black gum
☆
a tall, deciduous tupelo (Nyssa sylvatica) with sour purple fruits and leaves that turn scarlet in the fall, found in moist forests of the E U.S.
---
black gum
or black·gum
noun
A deciduous tree (Nyssa sylvatica) of eastern North America, having glossy, somewhat leathery leaves that turn bright scarlet or orange in the fall. Also called pepperidge, sour gum.
---
black gum
---