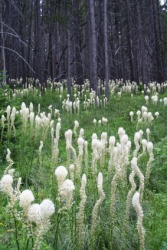 Twisted beargrass in a forest.
---
beargrass
☆
noun
any of several plants (esp. genera Yucca and Nolina) of the agave family, with a thick tuft of swordlike leaves at the base of a flowering stalk
a Western American plant (Xerophyllum tenax) of the lily family, with stiff, grasslike leaves and spikes of small, white flowers
---
beargrass
Noun
(countable and uncountable, plural beargrasses)
Xerophyllum tenax, a grasslike perennial closely related to lilies, formerly used in basketweaving by the Native Americans.
---