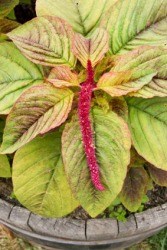 The Love-Lies-Bleeding plant, one of the species of the amaranth.
---
amaranth definition by Webster's New World
noun
any of a genus (Amaranthus) of plants of the amaranth family: some species, as the love-lies-bleeding, have colorful leaves and showy, tassel-like flower heads and other species, as pigweed or tumbleweed, are weeds

Old Poet.

an imaginary flower that never fades or dies
a dark purplish red
Origin: ; from Modern Latin ; from Classical Latin amarantus ; from Classical Greek amarantos, unfading ; from a-, not plush marainein, to die away: for Indo-European base see mortal
adjective
designating a family (Amaranthaceae) of dicotyledonous plants (order Caryophyllales), including the cockscombs
Webster's New World College Dictionary Copyright © 2010 by Wiley Publishing, Inc., Cleveland, Ohio. Used by arrangement with John Wiley & Sons, Inc.
---
amaranth definition by American Heritage Dictionary
noun
Any of various annuals of the genus Amaranthus having dense green or reddish clusters of tiny flowers and including several weeds, ornamentals, and food plants. Also called pigweed.
An imaginary flower that never fades.
A deep reddish purple to dark or grayish, purplish red.
A dark red to purple azo dye.
Origin: New Latin Amaranthus, genus name, alteration of Latin amarantus, from Greek amarantos, unfading : a-, not; see a-1 + marainein, to wither; see mer- in Indo-European roots.