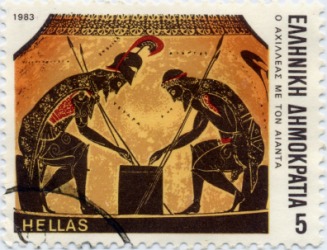 A stamp portraying Ajax playing a game with Achilles.
---
Ajax
noun
a strong, brave Greek warrior in the Trojan War who kills himself when Achilles' armor is given to Odysseus
one of the swiftest runners among the Greek warriors in the Trojan War
Origin of Ajax
Classical Latin ; from Classical Greek
Aias
---
Ajax
noun
Greek Mythology
The son of Telamon of Salamis and a warrior of great stature and prowess who fought against Troy.
The son of Ileus of Locris and a warrior of small stature and arrogant character who fought against Troy.
---
ajax - Computer Definition
(Asynchronous JAvaScript and XML) Using an enhancement in JavaScript that allows Web pages to be more interactive and behave like local applications, which are also known as "rich client" applications. AJAX allows the Web page to retrieve small amounts of data from the server without reloading the entire page. Prior to AJAX, any retrieval of data from the server required that the entire Web page be refreshed in the user's computer. As a result, systems were often designed with less interaction; for example, to have the user submit a form only at the end, after all fields were filled in. In contrast, AJAX systems can validate one or two items at a time "behind the scenes" without making the session cumbersome, especially over slow connections. AJAX, also known as "remote scripting," allows Web-based applications to be designed like LAN-based applications. The XMLHTTPRequest Object The JavaScript function that makes AJAX possible is the XMLHTTPRequest object, which was added to the JavaScript runtime module in the Web browser. It was first available in IE 5, Mozilla 1.0, Safari 1.2 and Opera 8. The XMLHTTPRequest object returns the data formatted in a DOM document. Web Workers Subsequent to AJAX, Web Workers is another method for making Web-based applications function like locally installed applications. For more details, see Web Workers. See AJAX engine, AJAX framework, ARAX, rich client, JavaScript and DOM.
---