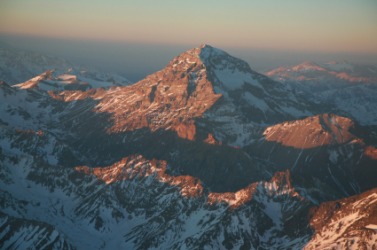 Aerial view of Aconcagua in the Andes.
---
Aconcagua
mountain of the Andes in W Argentina: 22,835 ft (6,960 m): highest peak in the Western Hemisphere
---
Aconcagua
A mountain, 6,962 m (22,841 ft) high, in the Andes of western Argentina near the Chilean border. The highest peak of the Western Hemisphere, it was first scaled in 1897.
---
Aconcagua
Proper noun
A mountain in the Andes, the highest point in South America
---