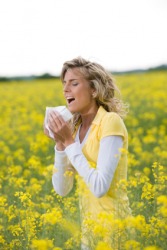 This woman says "achoo!"
interjection
The definition of achoo is a word used to represent the sound that people make when they sneeze.

An example of achoo is the sound someone makes when they have a head cold right before someone says 'Bless you'.
---
achoo
interjection
used to suggest or imitate the sound of a sneeze
---
achoo
Interjection
(onomatopoeia) The sound of a sneeze.

Achoo - I think I'm coming down with something!
---