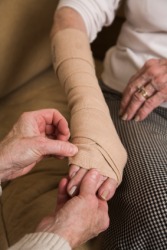 A woman wears an ace bandage on her arm.
noun
The definition of an ace bandage is a stretchy bandage designed to be wrapped tightly to apply pressure or provide support to a part of the body after an injury.

The brown wrap around an injured runner's knee is an example of an ace bandage.
---
Ace bandage
an elasticized cloth bandage wrapped around an ankle, knee, etc. to provide firm support, as for a strain or sprain
Origin of Ace bandage
from
Ace
, a trademark for such a bandage
---