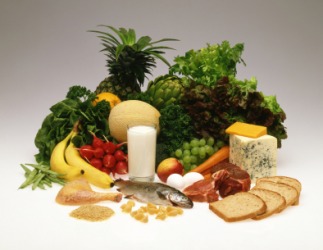 The five USDA food groups.
The United States Department of Agriculture (USDA) makes recommendations for each of the major food groups. A balanced diet should contain something from each category every day. The five major food groups include:
Grains
Vegetables
Fruits
Dairy
Meat and meat alternatives
Some food groups require you to consume more servings within that group compared to the others. For example, you will need more servings of fruits and vegetables than dairy. Fats, sweets, and oils are also part of the requirements but they have to be consumed with a lot of discretion. Recommended servings will depend on certain factors such as age and level of activity.Here are the the USDA's recommendations for each of the food groups:
Grains – The USDA advises you to consume six to eleven servings of grains per day although this can vary, depending on your age and level of activity. Examples of grains include rice, bread, cereal, and pasta. Opt for whole grains and avoid the processed white grains in white rice and white bread. Read labels and choose products that say "whole grain."
Vegetables – For a healthy diet, you should have three to five servings of vegetables each day. This food group serves as your primary source of vitamins and minerals, which you cannot survive without. Fresh and raw vegetables are the perfect choice, but cooked veggies and juices from the vegetables are also acceptable. Try to have meals that have a "rainbow" of colors. The more colorful they are, the more nutrients they contain.
Fruits – Fruits are rich in vitamins and minerals. You should have two to four servings of fruit everyday. If you want to have fruit juice instead, be sure it is 100 percent fruit juice without sweeteners. Whole fruits are preferred over juices since they will contain more fiber.
Dairy – Examples of food items from the dairy group include milk, cheese, and yogurt. The USDA recommends you have two to three servings of dairy everyday. Choose the low-fat variety whenever possible. Dairy products are rich in calcium and other vitamins. For the vegans and lactose-intolerant, you can opt for soy milk.
Meat and Meat Alternatives – Meat and its alternatives are great sources of protein, vitamins, and minerals. Examples of such food include beef, pork, poultry, fish, eggs, nuts, and beans. You should have two to three servings of these items per day. Select lean cuts of meats which have less fat.
Oils – Generally, you should limit fats and oils in your diet. There are good fats, however, they come from fish, vegetable oils, and nuts. Oils from vegetables and nuts do not contain any cholesterol. Stay away from solid fats such as margarine, butter, and shortening.
YourDictionary definition and usage example. Copyright © 2018 by LoveToKnow Corp
Link to this page
Cite this page
MLA Style
"USDA food groups." YourDictionary, n.d. Web. 08 December 2018. <https://www.yourdictionary.com/usda-food-groups>.
APA Style
USDA food groups. (n.d.). Retrieved December 08th, 2018, from https://www.yourdictionary.com/usda-food-groups
---