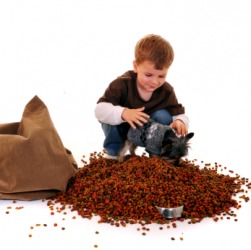 When it comes to feeding the dog, this boy has been a yutz.
noun
The definition of a yutz is Yiddish for someone who is believed to be foolish or useless.

An example of a yutz is a child that is not very good at doing his chores.
---
yutz
Slang
a person variously regarded as ineffectual, foolish, disagreeable, contemptible, etc.
Origin of yutz
from Yiddish
---
yutz
noun
A foolish, annoying, or socially inept person.
Origin of yutz
Possibly alteration of
putz
(
perhaps influenced by
Yiddish
yold
fool
) (
yat
fellow, guy
) (
or
yentsen
to have sexual intercourse
)
---
yutz

---