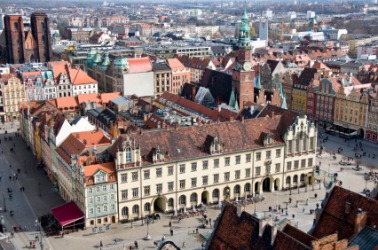 Marketsquare of Wrocław, also known as Breslau.
---
Wrocław
city in Silesia, SW Poland, on the Oder River: pop. 644,000
---
Wrocław
also Bres·lau
A city of southwest Poland on the Oder River. It was a member of the Hanseatic League (1368–1474) before passing to the Habsburgs (1526) and Prussia (1742). Wroc&lslash;aw was assigned to Poland by the Potsdam Conference (1945).
---