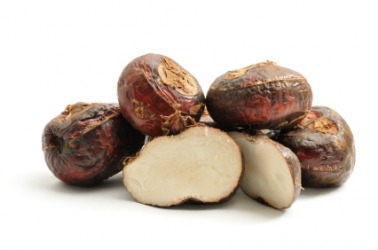 A pile of water chestnuts.
---
water chestnut definition by Webster's New World
☆

a Chinese sedge (Eleocharis dulcis) with erect, cylindrical leaves, growing in dense clumps in water
the large, button-shaped, submerged tubers of this plant, used in Chinese cooking

a floating aquatic weed (Trapa natans) of the water-chestnut family, with black, hard, horned fruit, the seed of which is sometimes eaten
adjective
designating a family (Trapaceae, order Myrtales) of floating, aquatic dicotyledonous plants
Webster's New World College Dictionary Copyright © 2010 by Wiley Publishing, Inc., Cleveland, Ohio. Used by arrangement with John Wiley & Sons, Inc.
---
water chestnut definition by American Heritage Dictionary
noun
A floating aquatic plant (Trapa natans) native to Eurasia and Africa, bearing four-pronged nutlike fruit and grown as a pond or aquarium ornamental. Also called caltrop, water caltrop.

a. A tropical Asian aquatic sedge (Eleocharis dulcis) having an edible corm and cylindrical leaves.

b. The succulent corm of this plant, used in Asian cooking. Also called Chinese water chestnut.