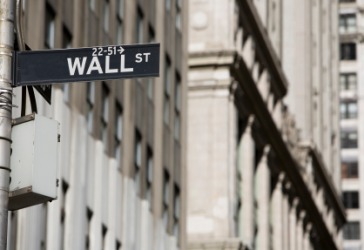 Wall Street, New York.
---
Wall Street
street in lower Manhattan, New York City: the main financial center of the U.S.
U.S. financiers and their power, influence, policies, etc., or the U.S. securities market
Origin of Wall Street
from a defensive
wall
built there by the Dutch in 1653
---
Wall Street
noun
The US financial industry.
Origin of Wall Street
After
Wall Street
,
in New York City
.
Related Forms:
---
Wall Street
Proper noun
(idiomatic): American financial markets, financial institutions as a whole, or by extension, big-business interests.
Antonyms
(big business interests): Main Street
Origin
From the name of a street located in Manhattan, where many financial institutions are located.
---
wall street - Investment & Finance Definition
Literally, the financial district in downtown New York City. The name is taken from the street on which the New York Stock Exchange is located. The NYSE's address is 11 Wall Street. However, investors typically use the term to refer to the investment community's stock market and capital raising activities overall, even though much of the industry activity takes place at other stock markets and in other cities.
---