Venezuela
[ven′ə zwā′lə, -zwē′-; Sp ve′ne swe′lä]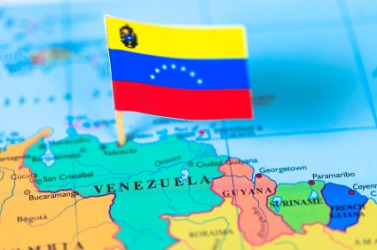 Map and flag of Venezuela.
---
Venezuela
country in N South America: 352,143 sq mi (912,047 sq km); pop. 19,405,000; cap. Caracas: official name Bolivarian Republic of Venezuela

inlet of the Caribbean, on the NW coast of Venezuela: c. 150 mi (241 km) wide
---
Venezuela
A country of northern South America on the Caribbean Sea. Inhabited by a variety of Arawakan and other peoples, the region was visited by Columbus in 1498 and colonized by Spain beginning in the 1520s, eventually becoming part of the viceroyalty of New Granada. Venezuela won independence in 1821 in federation with Colombia and Ecuador and broke away to form a separate country in 1830. Caracas is the capital and the largest city.
Related Forms:
Ven′e·zue′lan

adjective

& n.
Venezuela
---