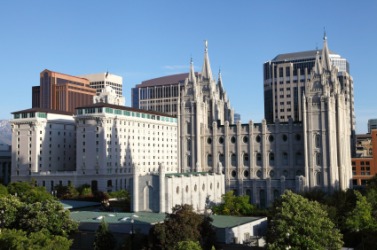 Downtown Salt Lake City, Utah.
---
Utah
Mountain State of the W U.S.: admitted, 1896; 82,144 sq mi (212,751 sq km); pop. 2,233,000; cap. Salt Lake City: abbrev. UT or Ut
Origin of Utah
; from Spanish
Yutta
; from Ute name, literally uncertain or unknown; perhaps hill dwellers
---
Utah
Abbr. UT or Ut.
A state of the western United States. It was admitted as the 45th state in 1896. Explored by the Spanish in 1540, the region was settled in 1847 by Mormons led by Brigham Young. Salt Lake City is the capital and the largest city.
Related Forms:
U′tah·an, U′tahn

adjective

& n.
---