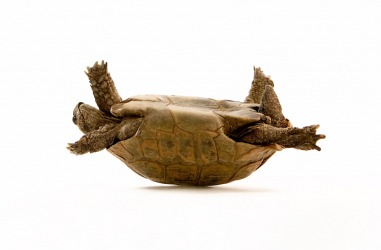 Someone has upended this turtle.
verb
Upend is to turn something upside down or on end.

When you turn a table over so its legs are in the air and its top is down on the floor, this is an example of when you upend the table.
---
upend
to set, turn, or stand on end
to upset or topple
---
upend
verb
up·end·ed, up·end·ing, up·ends
verb
transitive
To stand, set, or turn on one end: upend an oblong box.
To invalidate, destroy, or change completely; overthrow: upended a popular legend.
To win victory over; defeat.
verb
intransitive
To be upended.
---
upend

Verb
(third-person singular simple present upends, present participle upending, simple past and past participle upended)
To end up; to set on end.
To tip or turn over.

When he upended the bottle of water over his sleeping sister, the lid popped off and surprised them both.

To destroy, invalidate, overthrow, or defeat.

The scientific evidence upended the popular myth.
---