Truth and Error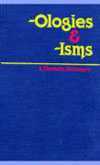 See also logic.
alethiology
the branch of logic dealing with truth and error. —
alethiologist
,
n.
—
alethiological,

adj.
errancy
1.
the condition of being in error.
2.
the tendency to be in error or the capacity for being in error; fallibility.
falsism
anything that is patently false or untrue; a fallacy.
Plinyism
an assertion of doubtful truth or accuracy, as with some statements in Pliny's
Natural History.
theopneusty
the force or process of divine inspiration; the power by which the Holy Spirit reveals truth to men. —
theopneustic, theopneusted
,
adj.
truism
a self-evident, obvious truth. —
truistic, truistical
,
adj.
Link to this page
Cite this page
MLA Style
"Truth and Error." YourDictionary, n.d. Web. 17 August 2018. <http://www.yourdictionary.com/truth-and-error>.
APA Style
Truth and Error. (n.d.). Retrieved August 17th, 2018, from http://www.yourdictionary.com/truth-and-error
---