treadmill
tread·mill
a kind of mill wheel turned by the weight of persons treading steps arranged around its circumference: formerly used as an instrument of prison discipline
a mill driven by an animal treading a sloping, endless belt
any monotonous round of duties, work, etc. in which one seems to make no progress
a stationary exercise machine, typically with speed controls, handles, etc., consisting of a short, wide conveyor belt upon which a person walks or runs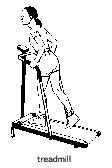 ---
treadmill
noun
A wheel with steps on which a person treads, used to power machinery.
An exercise device consisting of a continuous moving belt on which a person or animal can walk or run while remaining in one place.
A monotonous routine or set of tasks.
treadmill
---
treadmill

Noun
(plural treadmills)
A piece of indoor sporting equipment used to allow for the motions of running or walking while staying in one place.
A mill worked by persons treading upon steps on the periphery of a wide wheel having a horizontal axis. It is used principally as a means of prison discipline.
A mill worked by horses, dogs, etc., treading an endless belt.
---