noun
Tit is short for a small bird called a titmouse, or is a vulgar slang term for a female's breast.

An example of a tit is a titmouse, a small bird found in New England.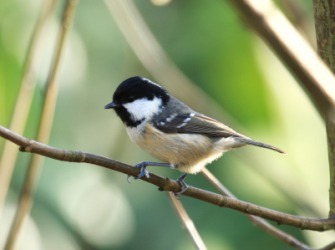 The titmouse is called a tit.
---
tit definition by Webster's New World
noun
a titmouse or other small bird
Origin: tit(mouse)
noun
nipple (sense )
a breast: in this sense now vulgar
Origin: Middle English titte ; from Old English tit, teat
noun
Now Rare
a small, worn-out, or inferior horse
Origin: Middle English tit- in titmose, titmouse, titling: probably child's term for "little," seen also in Old Norse tītlingr, little bird, Norwegian titta, little girl
Webster's New World College Dictionary Copyright © 2010 by Wiley Publishing, Inc., Cleveland, Ohio. Used by arrangement with John Wiley & Sons, Inc.
---
tit definition by American Heritage Dictionary
noun
A titmouse.
Any of various small, similar or related birds.
adjective
New England & Upstate New York
Small; undersized.
Origin: Short for titmouse. Adj., Middle English tit-, as in titmose, titmouse; see titmouse.
Regional Note:
Tit
is an old Germanic word for "small" and is used in various northern European languages to refer to small objects, animals, or people, especially girls—for example,
titta
is a Norwegian dialect word for "little girl." The word is most common in American English in combinations that denote various small birds, such as the
titmouse
or
tomtit.
A
titman
in the 19th century could mean a small or stunted person, as Henry David Thoreau indicates when he calls his generation "a race of tit-men."
Tit
and
titman
are still used in New England, mostly by farmers to refer to the runt of a litter of pigs.
noun
Vulgar Slang A woman's breast.
A teat.
Origin: Middle English, from Old English titt.