noun
Tit is short for a small bird called a titmouse, or is a vulgar slang term for a female's breast.

An example of a tit is a titmouse, a small bird found in New England.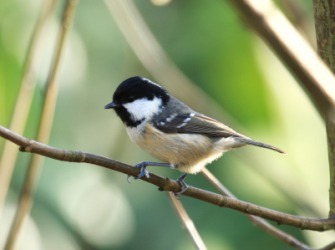 The titmouse is called a tit.
---
tit
noun
a titmouse or other small bird
Origin of tit
tit(mouse)
noun
nipple (sense )
a breast: in this sense now vulgar
Origin of tit
Middle English
titte
; from Old English
tit
, teat
noun
Now Rare
a small, worn-out, or inferior horse
Origin of tit
Middle English
tit-
in
titmose
, titmouse,
titling
: probably child's term for "little," seen also in Old Norse
tītlingr
, little bird, Norwegian
titta
, little girl
---
tit
noun
Any of various small insectivorous songbirds of the family Paridae of woodland areas, especially those of Eurasia and Africa.
Any of various similar birds.
Origin of tit
Short for
titmouse
.
noun
Vulgar Slang A woman's breast.
A teat.
Origin of tit
Middle English, from Old English
titt
.
---
tit
Noun
(plural tits)
A mammary gland, teat.
(slang, vulgar, chiefly in the plural) A woman's breast.
Origin
From Old English titt, of uncertain origin. Cognate with dialectal Dutch tet, German Zitze, Titte. Probably related to an original meaning 'to suck'. Compare Albanian thith ("to suck, breast,tit"). Compare teat.
Origin
Perhaps imitative of light tap. Compare earlier tip for tap ("blow for blow"), from tip, + tap; compare also dialectal tint for tant.
Origin
Probably of Scandinavian origin; found earliest in titling and titmouse; compare Icelandic titlingur ("sparrow"), dialectal Norwegian titling ("small stockfish").
---