tattoos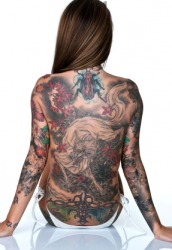 This woman has a lot of tattoos.
noun
Tattoos are permanent marks made on the skin by puncturing the skin with a needle and inserting ink.

An example of a tattoo is a butterfly that you have permanently drawn on your hip by a tattoo artist using a needle and ink.
---
tattoos
---
tattoos
Variant of tattoo
transitive verb
tattooed, tattooing
to puncture (the skin) with a needle and insert indelible colors so as to leave permanent marks or designs
to make (marks or designs) on the skin in this way
Origin of tattoo
; from a Polynesian language ; from Proto-Polynesian an unverified form
tatau
noun
pl.
tattoos
a tattooed mark or design