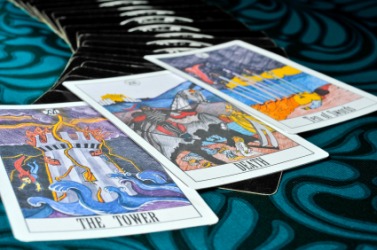 Three tarot cards.
noun
Tarot cards are defined as cards used by fortune tellers and card readers to help tell the future.

Facts About Tarot Cards

A tarot deck is a special deck of cards that contains 21 trump cards, the Fool, and an extra face card per suit, in addition to the usual suit cards found in an ordinary deck of playing cards.
The suits are associated with the four elements: Swords with air, Wands with fire, Cups with water, and Disks with earth.
Tarot cards, because of their symbolic nature, are intended to be a tool to help the subconscious mind communicate with the conscious mind.
Tarot readings are considered by many to be closely linked to practices such as astrology, the Kabalah, Pythagorean numerology, the I Ching, and Aura-Soma.

Meanings for Tarot Cards

Death - mortality, destruction, deterioration, corruption, the loss of a benefactor, the failure of marriage projects
Devil - weakness, blindness, pettiness, temptation, obsession
Emperor - stability, power, protection, aid, reason, conviction
Empress - action, initiative, happiness, pleasure
Fool - extravagance, intoxication, delirium, frenzy, ineptitude, carelessness, stupidity, negligence, absence, distraction, apathy, exhaustion
Fortune - destiny, success, elevation, luck, happiness, prosperity, improvement, enhancement
Hanged Man - wisdom, sacrifice, prophecy, intuition, discernment
Hermit - treason, roguery, corruption, trickery, caution
Judgment - renewal, deliberation, decision, sentence, determination of a matter
Lovers - attraction, beauty, trials overcome, love, obstacles surmounted
Magician - skill, diplomacy, self confidence, subtlety, snares of enemies, adaptation, craft, cunning
World - voyage, route, flight, assured success, change of place

An example of tarot cards are cards from a special deck usually made up of between 72 and 78 cards, each with meaningful symbols on them. A person having his tarot cards read will pick the cards from the stack and the tarot card reader will interpret their meaning.
---