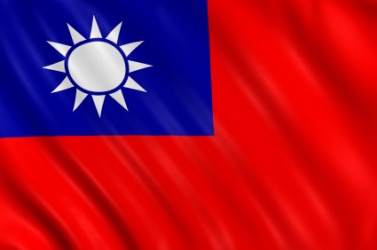 The flag of Taiwan.
---
Taiwan definition by Webster's New World
island of China, off the SE coast: a Japanese territory (1895-1945)

political unit consisting of this island, the Pescadores, Quemoy, Matsu, and other small island groups, governed as a separate country since 1949 and officially called the Republic of China: regarded as a province of China by the People's Republic of China: 13,970 sq mi (36,182 sq km); pop. 21,000,000; cap. Taipei
---
Taiwan definition by American Heritage Dictionary
Formerly For·mo·sa
An island off the southeast coast of China, the seat of the Republic of China since 1949. Settled by the Chinese in the seventh century, it was explored by the Portuguese in 1590 and held by the Dutch in the mid-1600s before being seized by Qing dynasty Chinese in 1683. Taiwan was ceded to Japan in 1895 and regained by China after World War II (1945). Taiwan broke off from mainland China in 1949 when the Nationalists under Chiang Kai-Shek fled from Mao Zedong's forces and established their government on the island. Taipei is the capital and the largest city. Population: 22,900,000.
Taiwan
The American Heritage® Dictionary of the English Language, 4th edition Copyright © 2010 by Houghton Mifflin Harcourt Publishing Company. Published by Houghton Mifflin Harcourt Publishing Company. All rights reserved.
---
Taiwan - Cultural Definition
Island nation in the Pacific Ocean near the mainland of southern China; seat of the Republic of China. Its capital and largest city is Taipei.
When the Chinese communists came to power on the mainland, the Nationalist government of Chiang Kai-shek and some of his army took refuge on Taiwan.

The United States long supported the Nationalists but broke relations in 1979 to establish relations with the People's Republic of China.

With its first free elections in the 1990s, Taiwan has become a democracy. Its economy is among the strongest in the world.

China refuses to accept Taiwan's independence as a nation, viewing it instead as merely a renegade province of China. This issue continues to complicate relations between the United States and China.