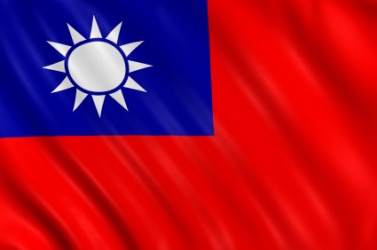 The flag of Taiwan.
---
Taiwan
island of China, off the SE coast: a Japanese territory (1895-1945)

political unit consisting of this island, the Pescadores, Quemoy, Matsu, and other small island groups, governed as a separate country since 1949 and officially called the Republic of China: regarded as a province of China by the People's Republic of China: 13,970 sq mi (36,182 sq km); pop. 21,000,000; cap. Taipei
---
Taiwan
An island off the southeast coast of China, the seat of the Republic of China since 1949. Originally inhabited by Austronesian peoples, it was settled in the 1500s by Han Chinese, explored in 1590 by the Portuguese (who named the island Formosa), and held by the Dutch in the mid-1600s before being seized by China in 1683. Taiwan was ceded to Japan in 1895 and regained by China after World War II (1945). Taiwan broke off from mainland China in 1949 when the Nationalists under Chiang Kai-Shek fled from Mao Zedong's forces and established their government on the island. Taipei is the capital and the largest city.
Taiwan
---