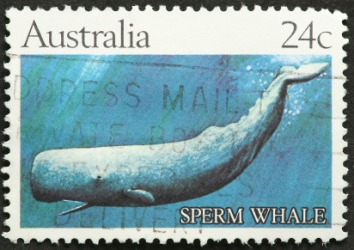 A postage stamp illustration of a cachalot or sperm whale.
Licensed from iStockPhoto
---
any of a family (Physeteridae) of toothed whales; esp., a large species (Physeter catodon) inhabiting warm seas: a closed cavity in its roughly square head contains sperm oil
Webster's New World College Dictionary
Copyright © 2010 by Wiley Publishing, Inc., Cleveland, Ohio.
Used by arrangement with John Wiley & Sons, Inc.
---
noun
Any of several large, toothed whales of the family Physeteridae, especially Physeter catodon or P. macrocephalus, of tropical and temperate oceans, whose massive head has a cavity containing sperm oil and spermaceti and whose long intestines often contain ambergris. Also called cachalot.
The American Heritage® Dictionary of the English Language
, 4th edition Copyright © 2010 by Houghton Mifflin Harcourt Publishing Company. Published by Houghton Mifflin Harcourt Publishing Company. All rights reserved.