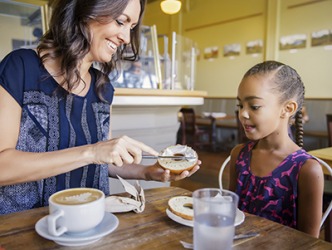 Annalisa's mother slathered cream cheese on her bagel.
verb
To slather is defined as to spread or spear a large amount of something.

An example of to slather is to put half a tub of cream cheese on a bagel.
---
slather
[usually pl.] a large amount; a lot
Origin of slather
from uncertain or unknown; perhaps
to cover or spread thickly
to use or use up in a lavish or wasteful way
---
slather
transitive verb
slath·ered, slath·er·ing, slath·ers
Informal
a. To spread or smear in large amounts: slathered sunscreen on his arms.
b. To cover with something spread or smeared in large amounts: slathered the bagels with cream cheese.
noun
often
slathers
Informal
A great amount: slathers of money.
Origin of slather
Origin unknown
---
slather

Noun
(plural slathers)
(cooking) A thick sauce or spread that is to be slathered (spread thickly) onto food.
Drool (especially if abundant).
Verb
(third-person singular simple present slathers, present participle slathering, simple past and past participle slathered)
(often followed by with) To apply generously upon.

I slathered my toast with jam.
---