skinny jeans
skinny jeans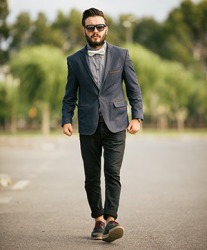 A type of men's hipster outfit is cuffed skinny jeans and a blazer.
noun
Skinny jeans are skin-tight denim pants that are usually made with stretchy fabric.

An example of skinny jeans are the jeans that fit tight from the waist all the way to the ankle.
---
skinny jeans
plural noun
Tight pants, often made of denim and spandex, that fit snugly around the calf and ankle and are sometimes cut long so as to gather in folds at the hem.
---