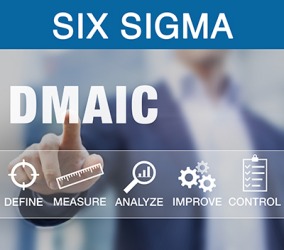 The Six Sigma Philosophy follows the methodology DMAIC (Define, Measure, Analyze, Improve and Control).
noun
Six Sigma is a business management philosophy that focuses on reducing errors by setting goals, tracking production and analyzing results.

An example of Six Sigma philosophy is working toward goals that can be measured in statistics.
---
Six Sigma - Investment & Finance Definition
A management philosophy that the Motorola company developed to eliminate errors in their production process. Six Sigma calls for setting very high objectives, collecting data, and analyzing results to reduce errors. The theory behind Six Sigma is that if the number of defects in a process can be measured, a system can be devised to remove them. In order to achieve Six Sigma standards, there can't be more the 3.4 defects per million. The Greek letter sigma can be used to indicate a variation from a standard.
---