sensorineural hearing loss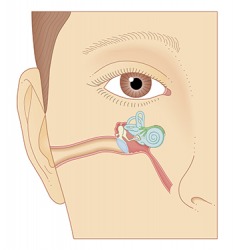 Meniere's Disease can cause sensorineural hearing loss because it affects the inner ear.
noun
Sensorineural hearing loss, also called nerve deafness, is a problem which can be caused by the inner ear, the auditory nerve from the inner ear to the brain or a problem caused by the processing in the brain itself.

An example of sensorineural hearing loss is when the high tones and the sounds "s," "f," and "z" are not heard, along with a difficulty clearly hearing common speech sounds.
---