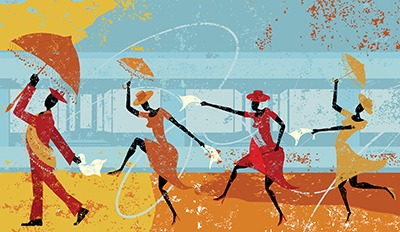 The second line parade strutted down the street following the Mardi Gras band while dancing and twirling their parasols.
adjective
The definition of second-line is something or someone that is not the preferred choice.

An example of second-line used as an adjective is a second-line drug which is the medication which is not the most commonly used for a specific medical issue.
noun
Second line is a type of rhythm used in New Orleans jazz and blues music, or those who follow behind the musical members of a parade to enjoy the music.

An example of second line is the rhythm of the music performed by jazz bands in New Orleans parades.
An example of second line is when a person walks behind a jazz band and twirls an umbrella or parasol.
---
second line
a jaunty, syncopated rhythm in 2/4 time, often used in the rhythm and blues and jazz of New Orleans
Origin of second line
from name for the group of youngsters following and imitating the band in a New Orleans funeral procession
---
second line
noun
A style of traditional jazz that emphasizes brass instrumentation, upbeat rhythms, and usually bright or joyous renditions of slower and dirgelike music.
Origin of second line
From the second line formed by people who, joining the traditional funeral parades of New Orleans after being attracted by the music, sing and dance while following the first line that includes the hearse, the family and friends of the deceased, and the band
second-line
adjective
Relating to or being a secondary stage of something: the body's second-line defense against infection.
Being a drug or therapy that is used to treat a condition or disease only after another drug or therapy has been used or considered.
Of or relating to second-line jazz.
---