SD card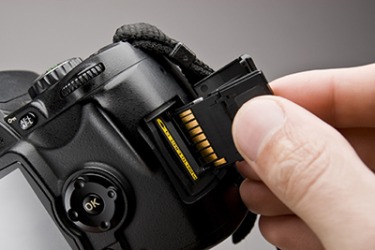 The photographer has an SD card because he takes photos using the raw camera setting which takes up more memory than the jpeg setting.
noun
The definition of an SD (Secure Digital Memory Card) card is a small card for creating more memory on a digital camera, cell phone or other portable device.

An example of an SD card is a memory card used in a digital camera to allow more images to be held in memory.
---
SD Card - Computer Definition
(Secure Digital Memory Card) A family of very popular flash memory cards used for storage in portable devices. Introduced in 1999 by Panasonic, Toshiba and SanDisk, the original, full-size SD Card is the most popular digital camera storage, and the smaller mini and micro versions are widely used in mobile devices. Cards come in various write speeds for video recording (for details, see SD Card classes). Although SD Cards support encryption and content protection (the "Secure" in SD), they have been mostly used for regular storage. SD uses NAND flash technology (see flash memory). Full-Size Card With capacities available up to 1TB, the full-size SD Card is the original and largest in the series. It uses the same 32x24mm form factor but is slightly thicker than its MultiMediaCard predecessor (see MMC), and SD Card readers accept both formats. Mini and Micro Sizes Introduced in 2003 and 2005 respectively, the smaller miniSD and microSD formats are electrically and software compatible with the full-size SD. Using adapters, they plug into full-size slots (see illustration below). Subsequent SDHC and SDXC formats also came in mini and micro versions; however, all miniSD cards were nowhere near as popular as the microSD formats (see microSD). SDHC (High Capacity) and SDXC (Extended Capacity) In 2006, SDHC cards using the FAT32 file system superseded the original SD format, which used FAT16, and SDHC devices support SD. Introduced in 2009, SDXC cards raised the maximum capacity to 2TB by using the exFAT file system, and SDXC devices also support SDHC cards. See Video HD, Eye-Fi, gruvi card and SDIO card. Ultra High Speed - UHS-I/II In 2010, the UHS-I interface was introduced for SDHC and SDXC cards, dramatically increasing the bus speed for 4K video and continuous still recording. For more details, see SD Card classes.
---