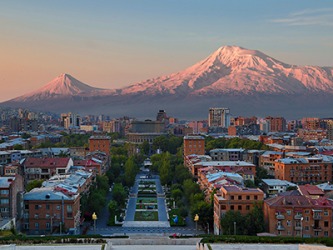 In the capital city of Yerevan in Armenia, the language that they speak is in the satem group.
adjective
The definition of satem is being of a group of particular Indo-European languages.

An example of something satem is the Armenian language.
---
satem
designating or of the group of Indo-European languages, including Indo-Iranian, Slavic, Baltic, Albanian, and Armenian, in which a prehistoric change of certain original stops into sibilants sets these languages apart from those of the centum group
Origin of satem
from Avestan
sat?m
, hundred from Sanskrit
sátám
: see hundred): so named because the initial sound illustrates the typical development in this group of the Indo-European palatal stop, which in the centum group is a velar stop
---
satem
adjective
Designating those Indo-European languages, including the Indo-Iranian, Armenian, and Balto-Slavic branches, in which original palatal velar stops became fricatives (as k' > s or š ) and labiovelar stops became plain velars (as kw > k ).
Origin of satem
Avestan
satəm
hundred (a word whose initial sound illustrates the change)
; see
dek&mlowring;
in Indo-European roots.
---
satem

Adjective
(not comparable)
Alternative spelling of satem.
---