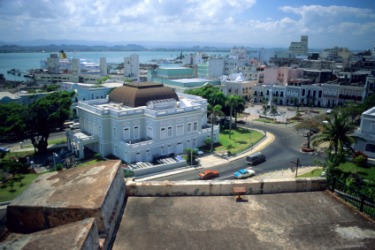 San Juan, Puerto Rico.
Licensed from iStockPhoto
---
seaport & capital of Puerto Rico, on the Atlantic: pop. 434,000
Origin: Sp, St. John
Webster's New World College Dictionary
Copyright © 2010 by Wiley Publishing, Inc., Cleveland, Ohio.
Used by arrangement with John Wiley & Sons, Inc.
---
A city of northwest Argentina west of Córdoba. Founded in 1562, it was moved to its present site in the 1590s. Population: 112,000.
The capital and largest city of Puerto Rico, in the northeast part of the island on the Atlantic Ocean. Settled by Ponce de León in 1508-1509, it was attacked by English buccaneers in the 1590s and sacked by the Dutch in 1625. American forces took control of the city during the Spanish-American War (1898). Population: 427,000.
The American Heritage® Dictionary of the English Language
, 4th edition Copyright © 2010 by Houghton Mifflin Harcourt Publishing Company. Published by Houghton Mifflin Harcourt Publishing Company. All rights reserved.