Samarkand
[sam′ər kand′; Russ sä mär känt′]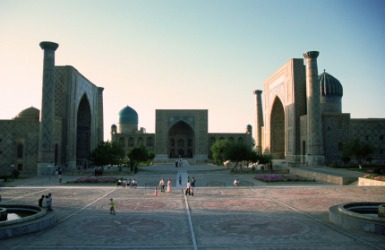 Registan Square in Samarkand.
---
Samarkand
city in E Uzbekistan: capital (as Maracanda) of Tamerlane's empire (1370-1405): pop. 371,000
---
Samarkand
or Sam·ar·qand
A city of southern Uzbekistan southwest of Tashkent. Dating from the seventh century BC, the city was conquered by Alexander the Great in 329, taken by the Arabs in the eighth century AD, and destroyed by Genghis Khan c. 1220. It was rebuilt as a fabled center of great splendor and opulence when it became (c. 1370) the capital of Tamerlane's empire.
---