Salzburg
[sôlz′bərg; Ger zälts′bo̵ork′]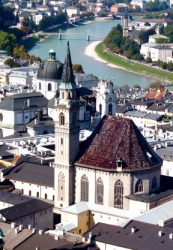 The beautiful city of Salzburg.
---
Salzburg
city in central Austria: scene of annual music festivals: pop. 144,000
---
Salzburg
A city of west-central Austria near the German border southwest of Linz. Originally a Celtic settlement and later a Roman colony, it was long ruled by powerful archbishops. Wolfgang Mozart was born here in 1756, and the city now annually hosts an international music festival.
---