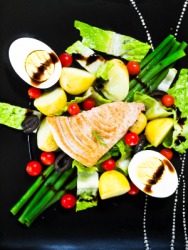 A delicious plate of salade nicoise.
---
salade Niçoise
a salad typically containing tuna, tomatoes, cooked green beans and potatoes, anchovies, hard-boiled eggs, and black olives, with or without greens, dressed with a garlic vinaigrette
---
salade Niçoise
noun
A salad of tomatoes, anchovies, black olives, green beans, tuna, and hard-boiled eggs.
Origin of salade nicoise
French :
salade
,
salad
+
niçoise
fem. of
niçois
,
of Nice
.
---
salade Niçoise
Variant of salade niçoise
a salad typically containing tuna, tomatoes, cooked green beans and potatoes, anchovies, hard-boiled eggs, and black olives, with or without greens, dressed with a garlic vinaigrette