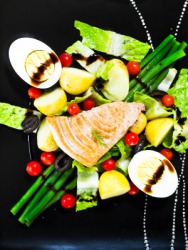 A delicious plate of salade nicoise.
noun
Also known as a nicoise salad, this is a classic French salad, usually containing green beans, olives, tomatoes and tuna with an herb vinaigrette.

Their favorite restaurant made an authenticsalade niçoise with a barely seared ahi tuna.
---
salade niçoise
[occas.s- N-orS- N-] a salad typically containing tuna, tomatoes, cooked green beans and potatoes, anchovies, hard-boiled eggs, and black olives, with or without greens, dressed with a garlic vinaigrette
Origin of salade niçoise
French from
salade
, salad +
niçoise
, feminine of
niçois
, of or from Nice
---
salade nicoise
noun
A salad of tomatoes, anchovies, black olives, green beans, tuna, and hard-boiled eggs.
Origin of salade nicoise
French
salade
salad
niçoise
fem. of
niçois
of Nice
---