Saint Louis
[sānt lo͞oˈĭs]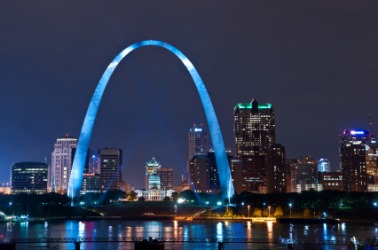 The Gateway Arch in Saint Louis, Missouri.
---
Saint Louis definition by American Heritage Dictionary
An independent city of eastern Missouri on the Mississippi River just south of its confluence with the Missouri River. Settled by the French as a trading post in 1763-1764, it passed to Spain (1770), to France again (1800), and to the United States as part of the Louisiana Purchase (1803). The city has long been a major river port, railroad hub, and industrial center. It is the largest city in the state. Population: 347,000.
A city of northwest Senegal at the mouth of the Senegal River. The oldest French colonial settlement in Africa, it was founded as a trading base c. 1658. It was the capital of French West Africa from 1895 to 1902 and the capital of Senegal until 1958. Population: 154,000.
Saint Louis
Variant of louis
noun
pl.
louis
louis d'or