sacro-

sacro-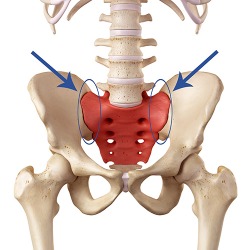 The sacroiliac joints are circled in blue.
prefix
Sacro is defined as related to the sacrum which is a triangular shaped bone near the lower end of the spinal column.

An example of sacro is sacroiliac, which is a joint between the sacrum and the ilium in the pelvis.
---
sacro-
sacrum, sacrum and: sacroiliac
Origin of sacro-
Modern Latin from sacrum
---
sacro-
or sacr-
prefix
Sacrum: sacrolumbar.
---