rumor

ru·mor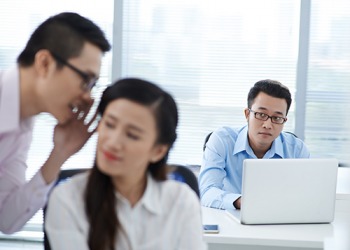 Alan wondered if his coworkers were spreading rumors about him or if he was just being paranoid.
noun
The definition of a rumor is gossip, or a story that is not confirmed but is being discussed.

An example of a rumor is a friend telling you something they heard about a new movie coming out.
---
rumor
general talk not based on definite knowledge; mere gossip; hearsay
an unconfirmed report, story, or statement in general circulation

Archaic

fame

Obs.

loud protest, clamor, etc.
Origin of rumor
Middle English
rumour
from Old French from Classical Latin
rumor,
noise from Indo-European echoic base an unverified form
reu-,
to roar, grumble from source rune, Old English
reotan,
to complain
to tell, report, or spread by rumor or as a rumor
---
rumor
noun
A piece of unverified information of uncertain origin usually spread by word of mouth.
Unverified information received from another; hearsay.
transitive verb
ru·mored, ru·mor·ing, ru·mors
To spread or tell by rumor.
Origin of rumor
Middle English
rumour
from
Old French
from
Latin
rūmor
---
rumor

Noun
(countable and uncountable, plural rumors)
(countable) A statement or claim of questionable accuracy, from no known reliable source, usually spread by word of mouth.

There's a rumor going round that he's going to get married.

(uncountable) Information or misinformation of the kind contained in such claims.

They say he used to be a thief, but that's just rumor.
Verb
(third-person singular simple present rumors, present participle rumoring, simple past and past participle rumored)
(usually used in the passive voice) To tell a rumor about; to gossip.

John is rumored to be next in line for a promotion.
---